Book Review – Trespass
Hey Readers!
Exciting news – Hero is in the final round of editing so it won't be long until it's released. Make sure you're signed up to The Bounty Hunter Bulletin so you get an email as soon as it comes out! –>
I'm also working on a new fantasy series which I'm really enjoying (and hopefully you will too when it eventually comes out!)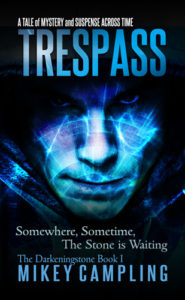 Other than that, there's nothing exciting going on in my world right now so I thought I'd share a book review with you. I recently had the opportunity to read a fantastic book from Mikey Campling; Trespass.
This is a thrilling read which, especially at the beginning, very much had the feeling of a Stephen King novel. There are three main time lines, although most of the focus is on a modern day boy who finds himself injured and stuck inside an abandoned quarry. The story focuses on the Darkeningstone; a mysterious slab of black stone that definitely has an air of the supernatural about it. I loved the way the stone was portrayed, it took on a life of its own and I could almost feel it coming through the pages.
I liked how the three timelines wove through each other and interconnected, it had me turning the pages to find out what happened next. Trespass is just the first in the series and I'll be looking forward to picking up the next book and following the rest of the mystery of the Darkeningstone.
Buy it Now: http://www.amazon.com/dp/B01GENAT4I/