The End of The Nova Chronicles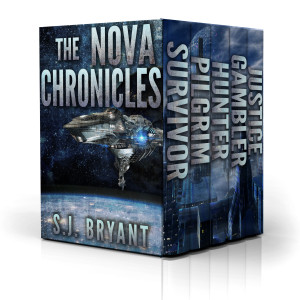 Hopefully by this time next week Hero will be here… I'm overjoyed and sad at the same time by that. I've been writing Nova for a few years now and I've really become attached! But as I've said previously, it's time to move on. So, to celebrate the end of the Nova Chronicles, I thought I'd answer some frequently asked questions about the series (and writing). If you  have any more questions, just let me know in the comments and I'll reply!
Is this really the end of Nova's story?
I won't give any spoilers… but suffice to say there is room for Nova's adventures to continue. Yes, I've left it open so that if I want to come back to Nova in the future, I can. However, ten books is quite a lot for a series and I think at some point Nova has to go on her own way.
Having said that, the universe of The Nova Chronicles is massive. Those of you who have read The UnConnected know there's a lot more going on than was covered in Nova's books. So, it's possible that in the future you may see "The Tanguin Chronicles" or "The Aart Chronicles"…. or maybe a series about the first outbreak of HAV. (If any of these especially appeal to you, tell me in the comments! – I won't know if you don't tell me!)
But for the moment… yes, Nova's story has come to an end.
What will you work on next?
I mentioned a little while back that I was working on a fantasy series. Well I'm pleased to say that that's now more than 50,000 words long and still going full steam ahead. Keep an eye on the Bounty Hunter Bulletin for the release of that towards the end of the year.
I also have a couple of sci-fi stand-alones in the works which should be out before too long.
Why don't Nova and Aart ever get together?
I made a solemn vow when I started this series that I would not contaminate my sci-fi adventure with romance… and I've held to that for 10 books. I'm afraid that romance elements never appealed to me, and they always seem to get in the way of the sci-fi/fantasy that I read. So, no… no romance. Besides, Aart and Nova were always more like brother and sister to me (feel free to disagree in the comments section :p ).
How did you first come up with the idea for Nova?
I took three things I enjoy and my brain mushed them together:
Dr Who + Firefly + Tomb Raider = The Nova Chronicles
Are their hidden 'Easter Eggs' in The Nova Chronicles?
Yes. Some of them I think only I will get, but they made me laugh at the time, others hopefully the perceptive reader will find. Some are quiet references to other books that I've enjoyed, and some of them reference previous events in the series, or my other books.
But what are they!?
Okay, okay, I'll give you a hint to one of them… Did anyone find the bird skull in Stranger hauntingly familiar? Nova does have a weird connection with time after all…
Why doesn't Nova use her powers more?
A tough question. But I think it boils down to this;
1) It's incredibly dangerous. She genuinely could fall through time/space, never to be seen again. So after the events of Survivor she did everything she could to lock that part of herself away. Sure it sneaks out every now and then, but mostly she's got it under control.
2) Nova's encounter with the Ancients really scared her (I know it's hard to tell because she's so tough, but it did), so she avoids everything to do with it – as evidenced by her never telling any of her friends about her experience on Archalon.
3) How could the bad guys possibly win if Nova was as awesome as she is AND had super powers??!! (just kidding, but still…)
I want to see more of Cal!
I hear from so many people saying that Cal is their favourite character. I didn't expect it when I first wrote him, but the more I've gotten to know him, the more I like him too. He's so fun to write, it's like writing a character who says exactly what everyone is thinking, but is too polite to say. And yet, you can't hate him for it because he's a robot!
Unfortunately Cal's history before he met Nova is very dull, so he probably won't have an origin story. After all… it was the crash landing on Tabryn that shook a few wires loose and gave him his special personality that we all know and love 😉
I have more questions…
Just write them in the comments section and I'll answer ASAP!
Thank you all for being such wonderful readers, I hope you enjoy the last instalment of The Nova Chronicles!