Mistborn – Book Review
TL;DR It's amazing, 5/5, buy it and read it now.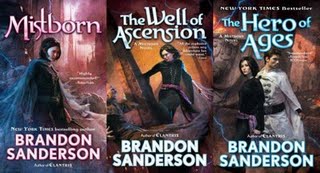 Brandon Sanderson is probably one of my favorite authors. He's one of the few writers that I will go out of my way to buy, even if it costs outrageous amounts of money.
This is one of his outstanding series, and I've decided to review this one as opposed to some of his others because this one is complete, so you can dive right in and enjoy it, NOW! If you're already convinced, you can get the series on most major retailers: https://books2read.com/u/3LpPX5
In my opinion, the blurb on Amazon does not do this book justice. So I haven't included it above. I think you should just get the book without reading the description.
The premise of the story, and how Brandon himself has been known to describe it, is a heist (think Oceans 11) set in a fantasy realm with magic. And the magic is phenomenal. You won't find any wand waving here. No muttered Latin or secret hand gestures. This is cold, hard magic that relies on ingestion of metals with different metals conveying very specific abilities (e.g. strength, charisma, etc.). Brandon Sanderson is absolutely known for his creative and brilliant magic systems and this one is no exception.
The heroes are real, reluctant, flawed, but lovable.
And the twists… just when you think you've got this series figured… BAM everything gets turned on its head. Multiple times I was left going WHAT!!?? And yet, the clues were there the whole time.
I can't think of a single problem with this series, not one nit-pick. They are proper length, door-stopper fantasy and you will get your money's worth of entertainment out of them.
The holidays are a great time to catch up on that reading list, and I can't recommend this series enough. You can get it from most retailers: https://books2read.com/u/3LpPX5
When you're finished, I would absolutely love to hear what you thought in the comments section, or shoot me an email.
Happy Reading!
*I use affiliate links (e.g. to Amazon) and so may occasionally get about 3 cents if you buy something…If you don't want me to get 3 cents, feel free to go to your preferred vendor and search for items manually. But really… come on… I need that 3 cents. To, you know… feed my pet rock.