The Paper Menagerie – Book Review
TL;DR It's pretty good, thought provoking, but I'd only give it 4/5 stars.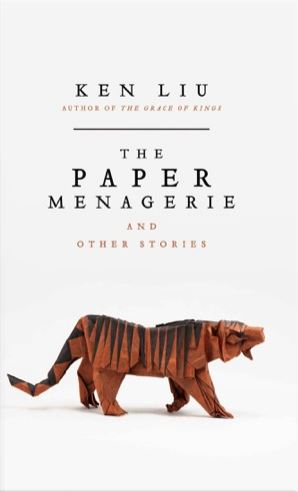 From Amazon:
Ken Liu is one of the most original, thought-provoking and award-winning short-story writers of his generation. This is the first collection of his work – sixteen stories that invoke the magical within the mundane, by turns profound, beguiling and heartbreaking.
Included here are: The Man Who Ended History: A Documentary (Finalist for Hugo, Nebula, and Sturgeon Awards), Mono No Aware (Hugo Award winner), The Waves (Nebula Award finalist), The Bookmaking Habits of Select Species (Nebula and Sturgeon award finalists), All the Flavors (Nebula Award finalist), The Litigation Master and the Monkey King (Nebula Award finalist) ,and the most awarded story in the genre's history, The Paper Menagerie (the only story ever to win the Hugo, Nebula, and World Fantasy awards).
The Long Version:
I'd actually read the title story "Paper Menagerie" before, and quite enjoyed it, which is why I decided to read this collection. As you can see from the blurb description above, these short stories come highly recommended by the award committees. And they're good… but… and I know traditional critics would probably skewer me for this… I don't think they're that good.
In fact, I found a couple of them downright frustrating. They didn't have ends. The last one in the collection in particular felt like it was setting up for a proper novella/novel, but then after the intro chapters for multiple characters, it just ended. Really unsatisfying.
Of course there are exceptions. The title story The Paper Menagerie for example is a bit of a tear-jerker, and a couple of the others I quite enjoyed. But unfortunately the experience was dulled by the incompleteness of some of the other stories (and of course, the last one you read sticks with you, so it's that one that has really shadowed my experience).
These stories are strongly influence by (I assume) the author's own experience of eastern/western culture and this brings a good and original flavour to them. We get to see characters and cultures that I at least don't often read about. I also learned some interesting history. However, I think the author's desire to showcase some historical/cultural elements means that some of these shorts slip more into historical/literary fiction, rather than sci-fi/fantasy. For example "The Man Who Ended History" was good. But the time-travel element felt very much like a means to an end, i.e. a way to tell a certain part of history that most people probably aren't aware of (I know I wasn't).
SO, if you like a little more literary fiction or history with your sci-fi, then you'd probably really enjoy this collection. If you're looking for wizards and space-ships, this is not the collection for you.
I'm giving it four out of five stars, because while many of the stories were enjoyable, I felt ripped off by the half-finished feeling of others.
If you'd like to check it out, you can get The Paper Menagerie and Other Stories from most major retailers: https://books2read.com/u/38E2Zr
If you've read it, I'd love to hear what you thought in the comments below. Or, if you've got a book recommendation, please let me know. I'm always looking for things to read!
This is the second installment of an ongoing book review series (one a month(ish)). If you'd like to receive the reviews straight to your inbox, then sign up for my mailing list. Even cooler, you'll get free books and all it will cost is your email address! Sign up here: https://www.subscribepage.com/d8d1y4
*I use affiliate links (e.g. to Amazon) and so may occasionally get about 3 cents if you buy something…If you don't want me to get 3 cents, feel free to go to your preferred vendor and search for items manually. But really… come on… I need that 3 cents. To, you know… feed my pet rock.