Three Parts Dead – Book Review
TL;DR – It's good, five stars, go and read it.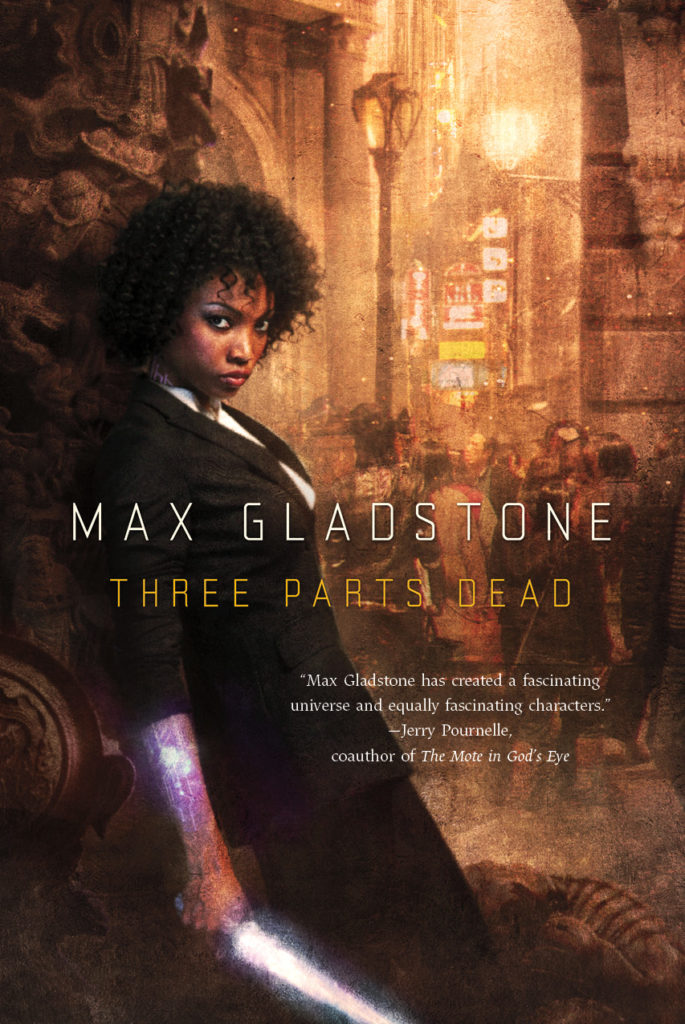 "Stunningly good. Stupefyingly good." —Patrick Rothfuss
A god has died, and it's up to Tara, first-year associate in the international necromantic firm of Kelethres, Albrecht, and Ao, to bring Him back to life before His city falls apart.
Set in a phenomenally built world in which lawyers ride lightning bolts, souls are currency, and cities are powered by the remains of fallen gods, Max Gladstone's Craft Sequence introduces readers to a modern fantasy landscape and an epic struggle to build a just society.
The long version:
I've been looking for a GOOD fantasy novel for a while. Of course, with the rest of the world I'm waiting for the next Brandon Sanderson release (or… spirits be calm… the final book in the Name of the Wind series), but until that happens, I felt lost in a sea of mediocre. So I did what any sane person would do: I did a Google search for 'Cool Magic Systems' and Max Gladstone's Three Parts Dead came up. It sounded intriguing, so I dived in.
And aren't I glad I did!
I mean… it even has a recommendation from Patrick Rothfuss, so there wasn't much chance of it going wrong.
Yes, it lives up to the google search requirement for a 'cool magic system', but it has a lot of other things going for it. The characters are three dimensional, the story is well written, with twists and turns, and believable villains.
The setting is almost steampunk, not quite traditional fantasy (medieval Europe), which also added a fresh flavor. The story had a solid arc, but also left a lot of potential for future books.
There's not much to critique; no major proofing problems, no characters that made me want to claw my eyes out… just solid story-telling with fun magic. I guess sometimes the magic was a bit… convenient, or hand-wavy. Given that it's meant to be based on legal contracts, I think the very concrete aspects of that could have been emphasised a bit more. But then again, maybe most readers don't want pages of legal contracts in their fiction???
If you too are looking for your next fantasy read, I highly recommend you pick this one up. It's available on all major retailers for a more than reasonable price. Get it Now: https://books2read.com/u/bow5dv
If you've read it, I'd love to hear what you thought in the comments below. Or, if you've got a book recommendation, please let me know. I'm always looking for things to read!
This is the first in an ongoing book review series (one a month). If you'd like to receive the reviews straight to your inbox, then sign up for my mailing list. Even cooler, you'll get free books and all it will cost is your email address! Sign up here: https://www.subscribepage.com/d8d1y4
*I use affiliate links (e.g. to Amazon) and so may occasionally get about 3 cents if you buy something…If you don't want me to get 3 cents, feel free to go to your preferred vendor and search for items manually. But really… come on… I need that 3 cents. To, you know… feed my pet rock.