3 Days Until Stranger!
I can't believe book 9 of The Nova Chronicles is almost here! It feels like only yesterday that I released Survivor- although according to the publication date it's been more than a year!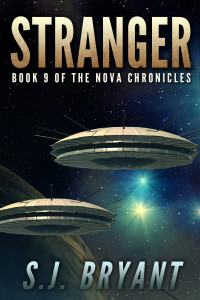 Stranger is a little different, I think, to the previous Nova books, maybe slightly less violence and mayhem than usual (although Nova still gets pretty injured, don't worry). Think of it as a bit of a breather before Book 10 – the grand finale.
(If you want to ignore my little monologue on how Stranger came to be, you can go straight ahead and pre-order it from  your favourite vendor: http://saffronbryant.com/book/stranger/ )
But, if you'd like the monologue, please read on:
All of the Nova books came to me as simple sentences, e.g. Pilgrim was 'the ear slug one', and Justice was 'the murder mystery one' – and from that idea sprung the books. Stranger was similar – 'Shogun in Space'. For those of you that haven't read it, Shogun is an absolutely brilliant book by James Clavell – it's historical fiction about an Englishman who finds himself stuck in feudal Japan. There is of course a lot of culture shock and intrigue and it's just a fantastic book. I read it again a couple of years ago and it absolutely inspired me, so I thought – what if Nova found herself trapped in a foreign culture? (which of course is bound to happen when you're a space-travelling bounty hunter).
Those of you who have read Shogun will recognise some "Easter Eggs" that I've nestled in Stranger, as a kind of ode to a fantastic book – I hope they make you laugh. For those of you who haven't read Shogun, I highly recommend it, even if historical fiction isn't something you  usually touch (I don't usually, but James Clavell has a special skill).
Before we get to the blurb I just wanted to ask that if you enjoy The Nova Chronicles, please consider leaving a review. They make a big difference, not just to encourage other people to buy, but also to me personally – to give me the fire to write more. Sometimes when I hit a 'writing block' I reread some of the lovely reviews and they give me the push I need to get through it. So thank you, to everyone who leaves reviews.
On to the good stuff:
Stranger
Out of the prison and into the… unknown planet.
Nova and her companions crash land on an alien planet, stranded.
Before they can pick themselves up they're arrested by the locals.
The threat of death looms over them and the cultural divide seems insurmountable.
Just as Nova finds her feet, a bigger threat emerges, and it could destroy them all.